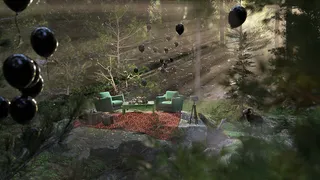 Happy Black Birthday BlenderKit!
What a year it's been for our BlenderKit community! So many great things happened in BlenderKit. We want to celebrate our 5th birthday and all the highlights with our awesome community.
Let's start with some stats
We have more than 1,400 creators uploading assets to the database
Our library has more than 34,000 assets available and 58% of them are free
Number of registered users grows everyday. Almost 714,000 of you registered to BlenderKit
Also it seems like you enjoying our library and supporting our creators. The number of downloaded assets reached more than 4,420,000 per last month
There are more than 1,130,000 searches made per day
BlenderKit homepage is visited by almost 15,000 unique users per day
We sent $29,225 to the Blender Development Fund this year alone
We are cooler than ever :)
BlenderKit keeps developing
What's new in the add-on?
bookmark feature to save favorite assets

geometry nodes filter added to the assets search

simplified system for private uploads

faster thumbnail downloading using WebP

asset bar is now enabled in the Pose Mode

improved error messages for easier debugging

support for Blender 4, everything is tested and ready to go

enhanced search functionality: filters persist also when switching between asset types

improved stability of packing and thumbnail renders

adjustable search field width

quality limit across assets: quality limit now applies to all asset types and is saved for future searches
Communication with the Blender community is very important to us
In 2023 there were some great events:

BlenderKit Discord channel is now open! Our Discord server is the ultimate hub for all 3D and Blender things. Connect with like-minded individuals, share projects, and get ready to collaborate, inspire, and learn from one another.
Join us
We are working on a new design for our web gallery. Via filters it will be possible to find modifiers, animated models and assets of your favorite creators and save them online.

In collaboration with polygoniq, we organized a one-day Blender conference in Prague, Czech Republic. The guest lecturers discussed games development, ArchiViz creation, VFX, 3D printing, sculpting, add-ons and archaeology. Vilém Duha, the CEO of BlenderKit, offered a session on geometry nodes, which you can watch on Youtube. You can also watch other videos from the conference and learn something new.

Learning is everything
Here are the new tutorials we produced:
We are nothing without our wonderful creators…
…and their voices matter to us.

Read the latest interviews here:

Our gift for your, our dearest BlenderKit community is special birthday discount. You can buy your Full plan subscription now for much lower price.

Thank you for growing with us.